New OwnSpy: Android monitoring without root
January 20, 2020
After a long time of developing, tweaking and testing we just launched a new OwnSpy version for Android with great new features. This new version of OwnSpy will not require rooting your Android device in order to work and it will allow you to monitor most of the more popular apps like WhatsApp, Facebook Messenger, Instagram or Twitter. OwnSpy for Android without root also includes a lot new features.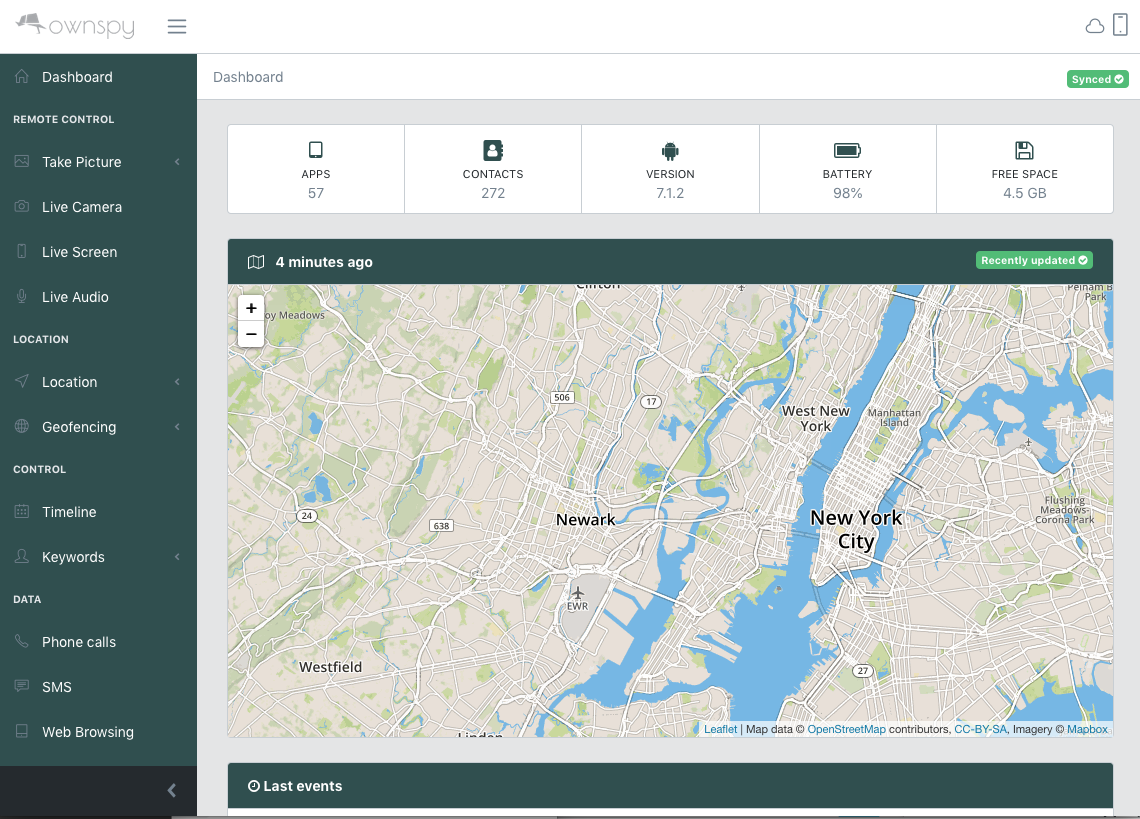 New dashboard
We also created a new dashboard, modern and easy to use where you can monitor remotely everything that happens on your device or even activate some rules like geofencing or keywords which will allow you to control everything what's happening on your remote device.

In real time
This new features will allow your to take a picture using both the front and rear camera of your Android or even receive a live stream from your camera to your dashboard. You can also activate remotely the microphone so you can listen what's happening near to your device. All this in a matter of seconds from your dashboard.

Location
You can locate your device in real time but also you can see where your device have been grouped by places. This way you can see where your kids are spending time in a quick and easy interface.
Also there is a new feature called Geofencing which will allow you to set safe places and receive alerts when the device enters or exits from them.

Keywords
This new feature is very powerful since will allow you to monitor every content showed on your device's screen no matter which app is in use. You can set a list of words to be monitored using predefined lists like "bad words" or create a custom list which we want to be notified about. When one of this words shows on the screen it will take a screenshot and it will register the event so you can supervise it.

Notifications
Now you can receibe all the notifications showed on your device from any app grouped by app and date, this way you can identify quickly how the device is being used.

App recording and blocking
OwnSpy will show you which apps is being used and for how long, and now you can also block certains apps so they can not be used or even record the screen content while the app is being used. This way you can be confident that the apps are being used properly.

File Explorer
For the power users we activated a remote File Explorer which will allow you to browse realtime the SD or internal memory content from your dashboard.

We also created a new free plan so you can use some features for free. This way OwnSpy is now more affordable than ever so anyone can start using it and upgrade to the premium plan to use all the features later.